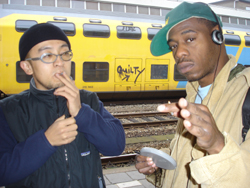 Kouhei Matsunaga
Aka KOYXEN
Bio

Kouhei Matsunaga grew up In Osaka, Japan listening to hardcore techno and rap music.
His first release appeared on Electric Ladyland vol. 5 (1998) from Germany's respected Mille Plateaux label. The track was credited to a unit called MOU, composed of himself and fellow countryman DJ Kuranaka. After that, Kouhei met Masami Akika (aka Merzbow) in Kyoto, and they started collaborating on several projects. Kouhei's musical education was further enriched during this time by such genres as noise, progressive rock and much contemporary music.
1998 also saw the release of Kouhei's first album, Upside down (Mille Plateaux), which included collaborations with Masonna, Natiho Toyota, and Merzbow. Kouhei joined Merzbow for a few works on Modulation & Transformation vol. 4 (Mille Plateaux), as well as doing a split CD with Kid606 on Tigerbeat6, and a 12-inch EP (CFET) by Berlin's Cristoph de Babalon.
Kouhei's first European tour was in 2001 with Masami Akita. Here he was introduced to and influenced by German music such as Der Plan, CAN, etc. He also met Daniel (aka Aleph Empair). His second European tour in 2003, took him through 15 countries and also to New York city with Carlos Giffoni. Kouhei's third European tour was with Zbigniew Karkowski, John Duncan and Rudolf Eb.er., who also lives in Osaka.
Following that last tour Kouhei started making telepathic collaborations with artists such as Lasse Marhaug, Lesser, Niko Skorpio, Ralf Wehowski, etc. Recently, Kouhei released a collaboration CD with Anla Courtis (ex-Reynols) from Perle in Paris.
In 2002, Kouhei, along with partners Akiko Fujisawa and Imanishi Masayuki started the label Flying Swimming. The first Flying Swimming party in Japan in May 2002 featured Kid606, Spectre (Wordsound) and former Jungle Brother Sensational (WordSound). Afterwards, Kouhei produced a track for Sensational's fifth release, Natural Shine (WordSound, 2002), and Sensational returned the favor, dropping guest vocals on Kouhei's track "Solid Fat." This was Kouhei's first combination of noise and breakbeats, and a precursor to his production of the album Sensational Meets Kouhei in Japan (WSCD053), which was recorded in only 5 hours during an off-day on tour in Japan.
Since then, Kouhei has toured Europe twice with Sensational and Spectre, and many of the tracks off his new WS Digi release, e? were inspired by these trips.